Wool Weekly - Volume 24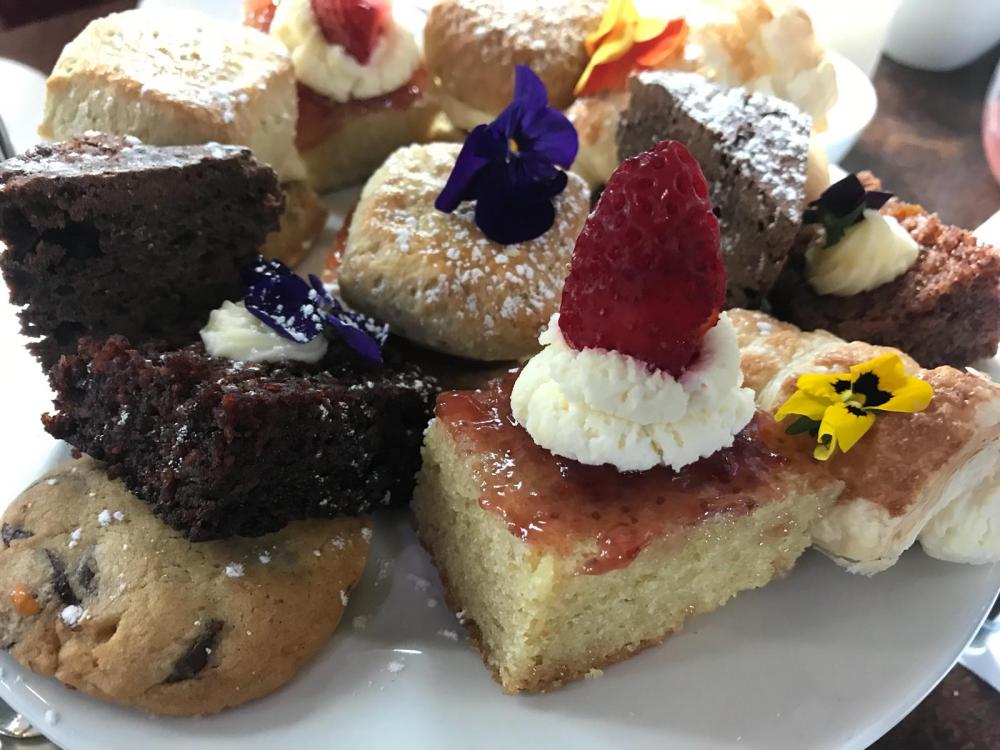 On Thursday 8th March, Manchester became Womanchester to celebrate International Women's Day. Not only was the city renamed, but there was also a plethora of amazing events to bring together the wonderful women (and men) of Manchester. Along with these great events, some awesome podcasts, communities and platforms were also launched, all with the intention to empower and support women. Charlotte was lucky enough to immerse herself in several of the different goings on in the city, and Wool Digital were so excited to support some of our friends with their great additions to the celebrations.
As a member of Forward Ladies, Charlotte headed off for a morning of inspiration and networking with some wonderful women from the North West. In keeping with #IWD, the CEO of Forward Ladies, Griselda Togobo, delivered an amazing speech to all of the attendees. Griselda explored how she began her career in engineering (inspired by her mother) and then moved into accountancy to optimise her talent with maths. Following on from her maternity leave, and the options available upon returning to work, she decided to go it alone and begin the life of an entrepreneur (again, taking after her mother). On this journey, she began attending Forward Ladies, a networking event which she felt was extremely valuable – and after a few conversations, the founder convinced her to buy the business (leaving her to move into retirement). Since taking on Forward Ladies, Griselda has taken it across the UK, gained many corporate partners (such as HSBC) and also created national awards which brings some of the UKs greatest business women.
Her talk was completely and utterly inspiring and captured the attention of all of the women in the room, it was clear that Griselda loves to empower, and create opportunities for, other women. Towards the end of her presentation, Griselda asked the room how many women had 'put themselves forward' for something within the past week, and when there was little response, she widened this to the past six months. The number increased, but only slightly, and so Griselda actively encouraged all of the women in the room to have less inhibitions and promote themselves more, supporting this with several anecdotes of where she has done this and it has really paid off (she also admitted, it might not always work out). The key final message of her talk was that on International Women's Day (and every other day), we should all take more care of ourselves – and put ourselves first. Her talk left the room inspired and ready to take on the rest of the day.
Business Sorority events always result in an amazing evening of networking and discussions of how women can take themselves (personally and professionally) to the next level. Their International Women's Day event was everything we expected, and more, hosted at The Range, an indoor golf simulator, allowing the ladies to polish off their golfing skills to take to the green when the men next head out for a 'meeting'. Along with some fabulous food, perfect conversation starters and some expert golfing tips, the group were introduced to Facebook's initiative #SheMeansBusiness, where Jen (co-founder of the Sorority) has been selected by Facebook to lead training across Manchester on all of their digital marketing solutions – allowing women to take their advertising campaigns to the next level. The greatest part? The training will include a range of aspects meaning that anyone from little expertise to a daily campaign manager will have something to learn! We can't wait to hear more from this initiative.
On the morning of International Women's Day, Charlotte headed out to 'In Our Own Words', an event surrounding all things 'Women In Tech'. The morning delivered a wide range of speakers who all brought forward a new insight towards women in business - although the event was billed to have a tech focus, this was less so presented within the line up, however, it was still a great session.
Starting off the morning was a wonderfully inspiring talk from Laura Bartlett, CEO of House of Coco, a travel magazine (which also offers a range of other topics such as beauty and fashion). Laura explored the ups and downs of getting to where she is now, along with a comedic approach to her failures – which certainly kept the audience captivated – she presented that her journey has not always been easy, but she now has an amazing team of women working around the UK, and thanks to the success of House of Coco, Laura has the ability to help this team achieve their own dreams, such as travelling the world. Laura was open, honest and raw along with offering an uplifting and hilarious presentation. We can't wait to hear more from her in the future.
Next up was a panel which explored the topics of women role models, and attitudes towards women, such as in speaking positions or in general working life. The panel explored how many role models do not actually see themselves as role models, and if they did, this may encourage them to behave differently and, in turn, lose their authenticity. An interesting point which was presented by a mum on the panel is that it can be quite frequent that women are asked 'who is looking after the kids' or generally about their work life balance – when this is not something which is asked of men. Another interesting topic surrounded that within a recent programme to get women more speaking positions (along with media and presentation training), the women who saw themselves undertaking more and more speaking slots found themselves being trolled, I'm sure that this is not something which male speakers find (in the majority). It was also mentioned that many event organisers depended upon the programme as a last minute resort, upon realising that they had an all male panel, instead of forward planning.
The next talk came from Gail Jones, Co-founder and Managing Director of UKFast, this actually happened to be her first public speaking event since the creation of the company several years ago. Gail presented that over the years of the business growing, the entire process has always faced scary steps and that there has always been challenges. Gail also discussed how the company aims for as much of a 50/50 gender split as much as possible, but this always has to be done with aptitude in mind to ensure a solid workforce. She also touched upon how over the past few years, UKFast have begun to see an increase in female apprentices coming through their doors, which is an exciting move within the tech disciplines – however, this is still a small number and something which they would like to see increasing. As a parent, Gail expressed how it is important to support parents within the workforce and so at UKFast, they endeavour to support parents as much as possible, even if that means that children come into the office during their days off. Being parents, along with being invested in the local community, has also made the UKFast senior team very passionate about supporting schools in the local area to expose children (both boys and girls) to technology, through implementation of training courses and equipment. A final point which was proposed by Gail was that if you aren't happy in the workplace, you need to go and find this happiness elsewhere or make it yourself.
To kick off the afternoon, Charlotte headed to The Clink in Styal for Afternoon Tea with two charities The Clink and Smart Works, along with an inspirational talk by Sandy Lindsay MBE. The Clink is a charity which is based in prisons and uses catering and culinary skills to allow prisoners to flourish when they are released - this was based on statistics which explored that the return rate for offenders was extremely high, and the founders of the charity wanted to create a programme which would help people in the long run. The Clink in Styal supports a large number of women each year through training them in cooking and hospitality, the programme also puts the students through qualifications, as well as introducing them to potential future employers. The food at The Clink was amazing and I would definitely recommend it, if you don't take our word for it, the restaurant has been listed as number 1 on Trip Advisor several times! The other amazing charity being supported during the afternoon was Smart Works, an organisation which helps to empower women to secure new jobs through personal styling and interview coaching. Whilst working with Smart Works, women are given the full VIP treatment to ensure that they feel great, and are confident to take on their next interview. To make this even better, if a lady secures a job within 6 months of initially having her consultation, she is also treated to another session which prepares her for her first few days in her new job. Sandy Lindsay MBE, founder of Tangerine PR, treated the audience to an uplifting talk which presented her journey to where she is now, along with presenting the key message that everyone should be treated with courtesy and respect. The Afternoon Tea at The Clink was wonderful and a perfect way to celebrate International Women's Day.
The celebrations of #WoManchester culminated with a wonderful evening at The Radisson Blu Hotel where some of the Manchester's power women (and men) came together to celebrate and discuss empowering women. The evening was the perfect event to embrace all things International Women's Day and opened up the floor to some amazing initiatives across Manchester - along with talks from the, female, local council leaders about why it is so great to be a women in Manchester. A person highlight for me? Seeing many of the wonderful ladies which I have met recently come together under one roof. Oh, and also, the cocktails by Revolution De Cuba which were also splendid.
Another highlight from International Women's Day 2018 came in the form of the official launch of 'Women Who Keynote', something which started life as a spreadsheet. Earlier this year, a good friend of Wool Digital, Kirsty Devlin, put together a list and contact details of local women and topics which they are experts in enabling event organisers to easily find wonderful ladies to add to their panels (and essentially removing any reason for 'manels' to continue). Overnight, the concept exploded and a more manageable and secure platform was required – enter, 'Women Who Keynote'. The site is a list of women from around the world showcasing their amazing talents along with offering event organisers the ability to easily contact them. We are so excited to see this go from strength to strength! If you are a women who is interested in expanding your public speaking profile, or an event organiser looking for some new speakers – definitely check this out!
You may have heard us talk about Tech For Good Live many times, we love the team and everything they do – not only are they all super awesome individually, but they also put together some of the best monthly events and also create one of our favourite podcasts. On IWD2018, Tech For Good Live put together a special podcast which explores real life stories of what it is like to be a woman in tech today, and some of the struggles which are faced by women on a daily basis (in what is meant to be a forward thinking industry). Tech For Good Live are always brilliant at calling out what they see and this is another great example of why they are a team everyone should be checking out.
International Women's Day 2018, and WoManchester, was a perfect celebration and discussion for all things involving equality, women's rights and just general common courtesy towards others.
To make things easier, here's some quick links to some of the wonderful things and people mentioned above:
http://forwardladies.com/
https://www.businesssorority.co.uk/
https://theclinkcharity.org/
http://smartworks.org.uk/
https://womenwhokeynote.com/
https://omny.fm/shows/tech-for-good-live/international-womens-day-2018-special
http://www.techforgood.live/